Digital Marketing is forever changing and is an essential part of any business strategy. So how do you create a Digital Marketing plan that helps your business grow? We've outlined the steps you need to take help plan your next Digital Marketing campaign.
1. Complete a Situation Analysis
The first thing you must do as a business is to be aware of your surroundings. Who's doing what and where, how can you be different and stand out from the pack with a unique offering?
Look at internal and external factors using a S.W.O.T analysis. By doing this you'll be able to have a better understanding on how to position yourself and what strategies and tactics you'll need to implement to have a successful plan.
SWOT Analysis
A SWOT analysis is a tool that audits a business by looking at where they are right now. Looking at the Strengths, Weaknesses, Opportunities and Threats, a business can ultimately see what is happening externally and internally at that moment in time.
Using the information gathered from your SWOT analysis, you can see where your current position is in the marketplace and the direction that you may be heading in.
According to Smart Insights the SWOT analysis will give you the strategic view of the main opportunities and challenges available from Online Marketing.
2. Establish Your Goals
A good Digital Marketing plan needs set goals that you work to achieve. Examples of goals may be to:
Increase visitors to your website;

Increase conversions;

Increase sales;

Increase brand awareness and market share.
Digital Marketing goals can be done with the SMART goals template. SMART goals are a common method for businesses to set goals as it allows them to be precise with the goal they want to achieve and how they will measure the results. SMART goals are:
3. Define Your Strategy
Hubspot sums up what a Digital Marketing strategy is best:
"Your Digital Marketing strategy is a series of actions that help you achieve your company goals through carefully selected online marketing channels. These channels include paid, earned, and owned media, and can support a common campaign around a particular line of business."
As a business, use the SWOT and SMART templates to create your ultimate Digital Marketing strategy. Having a Digital Marketing strategy is what enables you to create and achieve goals as you will know precisely how it will happen and when.
Without a strategy, you are setting yourself up for failure, as if you fail to plan you plan to fail Benjamin Franklin and Winston Churchill have said. Therefore if you think you can just develop and market a product with a strategy then you are setting yourself up for failure!
4. Identify Your Digital Strategies and Tactics
A tactic to achieve your Digital Marketing goals is the RACE template. RACE is based on each stage of the sales funnel as you can see in the image below.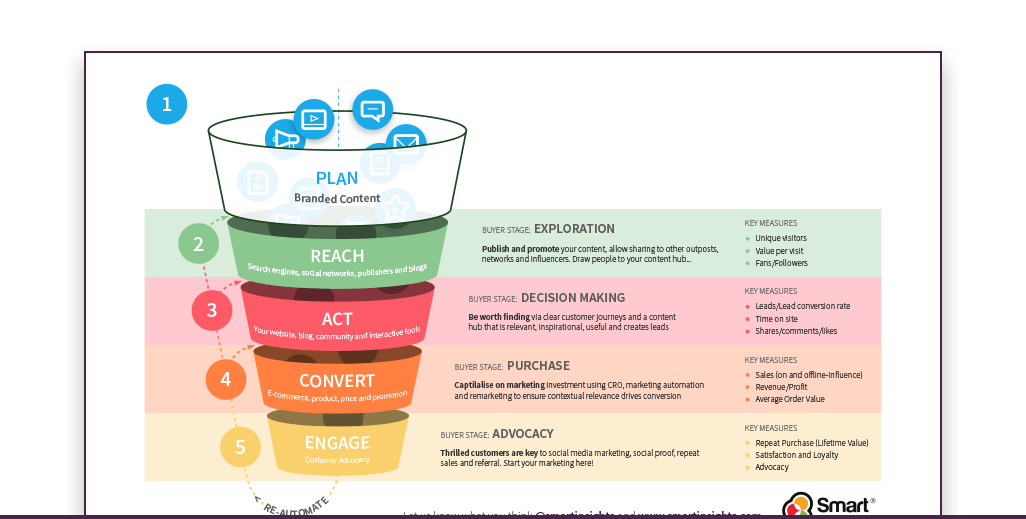 Using the RACE template will break down your Digital Marketing strategy into four further goals to be achieved after the plan is created.
Reach
Reach is the top of your sales funnel where you are trying to attract as many people as possible that fit your buyer persona. Typical strategies for this initial strategy by using SEO, Social Media Marketing and Content Marketing strategies such as the inbound methodology. Using these strategies you are creating brand awareness and letting your target market know
Who you are;

What you do;

How you can help them.
Act
Encourage website visitors to interact with you by offering a free whitepaper or discount when they buy from you. This second stage of the sales funnel inturn generates leads. Generating leads takes creating content that is inspirational, relevant and useful so that they take action and want to know more about your business.
Convert
Once a lead is generated by them providing you with their contact details to find out more or book an appointment, they still may not be ready to take action and make a purchase from you. Placing them into an automated email nurturing workflow with automated emails allows you to stay in communication with them. If emails are targeted correctly, they won't end up in the junk box. According to Campaign Monitor a successful email campaign can see up to a 4400% Return On Investment (ROI).  
Engage
The last stage of the sales funnel sees you want to turn your converted leads into advocates of your business. People are 90% more likely to trust and buy from a brand recommended by a friend Invespro found. Provide your leads with personalised content that creates an ongoing authentic relationship.
5. Measure Results and KPIs
Ending your Digital Marketing strategy you want to see if you have achieved your Digital Marketing goals. To see if you have achieved your digital marketing goals you need to measure it and use key performance indicators (KPIs).
KPIs are used by marketing teams to analyse marketing campaigns to see what worked, what did not and how they could improve. That is putting it simply, as you can guess there is so much more to KPIs. KPIs look at
Website Traffic
Website traffic KPI is looking at all of the different sources of where the traffic came from and then the visitor behaviour when they landed on the website. Did they stay on the website? What pages did they visit? Did they have problems and left straight away?
Cost Per Lead (CPL)
Cost per lead is the cost of generating leads divided by total leads acquired. Using this formula you can see how much you have spent on generating leads. Seeing how much you spend on a lead can either have you wanting to repeat the same targeting or look at how you can improve on your targeting or even your message.
Conversions for Email Marketing Campaigns
Analysing the conversions for Email Marketing campaigns allows you to see:
what emails leads opened;

what they did not;

what links they clicked on;

 

what links they did not (even though they read the email).
Therefore by analysing your Email Marketing campaigns you see what has worked and what did not. Using the information you can make informed decisions as to how you can improve the copy and subject lines to get more opens and links clicked.
Customer lifetime value
Customer lifetime value is assessing how much profit your business generates over the whole time they do business with you. As it is the whole time the customer does business with you, the KPI for this is done on a quarterly basis as part of the accounting reports.
In closing, when developing a Digital Marketing plan it's important to always remain flexible. The Digital Marketing landscape is ever-changing. Your goals and may shift month on month due to factors that are out of your control like a new Facebook feature and changes to Google algorithms etc. By following the steps above, it will provide you with a good foundation of how to set up your plan. Always remember to monitor your results and adjust your strategy accordingly if needed.
If you would like to know more about how we can help you learn the right skills to a Digital Marketing career, book a call with one of our experts or download our course guide.