In today's world where everybody is online, having a business that does not advertise online is setting themselves up for failure. Your business needs to keep up with the modern world and have a Digital Advertising strategy.
Like traditional advertising, a Digital Advertising strategy can be used to:
promote your product;

generate brand awareness;

increase sales.
Your Digital Advertising strategy should move people through your Sales and Marketing funnel and turn them into paying customers.
Did you know that Digital now accounts for 55% of overall Marketing budgets in Australia, with Digital Advertising in Australia having reached $8.5 billion?
Here are five reasons why your business needs Digital Advertising to increase sales.
1. Targeted Digital Advertising drives conversions and sales
More and more people are interacting with brands and content online. Last year, Australians spent a total of A$28.6 billion (US$20.3 billion) on online shopping. Having a website is not enough – you must be prepared to spend money on Online Advertising to generate sales.
A targeted Digital Advertising strategy that drives conversions and sales compromises of three things.
Targeting specific groups of people;

Compelling content and copy;

Remarketing tactics to previous visitors of your website.
Targeting a specific group of people
You want your ads to be seen by the right people. It's a waste of money advertising to people who have no interest in your products. When creating an online ad it can be targeted to specfic demographics of people, their sex, location and personal interests. 
Copywriting that makes your advert more compelling
You have a small window of opportunity to capture someone's attention. Your ad copy needs to be precise and creative enough to make them want to find out more about what you're offering.
Remarketing to attract your audience back to your offer
Remarketing allows you to target your ads to previous visitors of your website. Have you ever wondered how you see an ad when scrolling through your Facebook feed moments after visiting a similar site? That's remarketing.
2.  Success is easy to measure
With the amount of data and analytics that is available through Digital Advertising, it's easy to track your ad performance and gain valuable insights for future campaigns.
Start measuring your conversions and sales simply using these 2 tactics.+
Tactic 1. Setting a goal
Creating a SMART goal gives you a framework to create a specific goal you want to achieve, how you want to achieve it and in what time frame.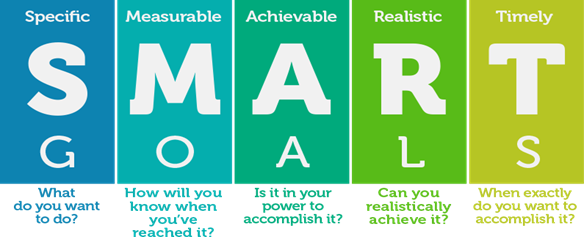 Tactic 2. Website traffic
Website traffic is helpful in measuring and tracking visitors behaviour and which advertising sources they are coming from. Make sure you set up your tracking pixels to identify how a lead enters your site and via which online ad. Additionally, when you dive deeper into your website traffic you can see extra information including:
Sessions are the number of visitors sent to your website. Using this is good to measure your Digital Marketing campaign as you can see how many people are clicking on your advert and going to your website.
Session duration helps you to understand the user experience (UX) and how much time they spend on your website. UX comes down to loading of pages, media (pictures and videos), mobile-friendliness and ease of use to navigate or click on offers.
Repeated page views trigger this measurement. It is an important measurement as it tells you what content visitors are interested in.
Bounce rate is when visitors leave your website due to poor UX. High bounce rate also happens when your advert sends your audience to the wrong URL.
3. Digital Advertising is targeted
Different platforms have different targeting options for your Digital Advertising strategy. When creating a targeted digital ad you need to ask yourself the following.
Who is your target market and what is the demographic?
When you can answer that question then you can create a targeted digital ad to them.
Facebook is by far one of the most popular platforms for Digital Advertising. According to Sprout Social at the end of 2018, they had an advertising revenue of $16.6 billion across Facebook Stories, Instagram feed, Instagram Stories and Messenger.
Those statistics may scare you into thinking that there is just too much competition on Facebook. Don't panic too much about the cost per click (CPC). CPC varies from industry to industry and you can control how much you are paying when creating your digital advertising.
If though your advert is in the B2B niche and you are targeting business executives, then LinkedIn is the preferred platform to use. According to Hootsuite "58% of B2B advertisers like the ROI on LinkedIn ads".
Have you looked at your website data and seen that your main traffic source is Google? Then Google Ads is the best approach for you. According to Google, advertisers make $8 for every $1 they spend. But as with any other platform for Digital Advertising, there is competition and Google Ads are no different.
4. Potential customers are already searching online
Today it is commonplace to say'I'll Google it' when searching for a product or business. According to SEO Tribunal, Google receives over 63,000 searches per second on a given day.
Consumers put in specific keywords to find a product or to simply solve a problem. You can find specific keywords by using the Google Keyword Planner.
Google Keyword Planner will tell you the volume search and CPC of keywords. To find your specific keywords that fit with your business, type in your business product such as 'SEO consultant' and a whole range of keywords will appear.
Choose the best keyword for your business and create content around it. Content to create comes in the form of web pages and blog posts. In return for the content, you will start to rank on Google for that keyword and potential customers who are already searching online can find you.
5. Digital campaigns are easy to adapt
Digital campaigns are easy to adapt when you use split tests. Split tests (also known as A/B tests) is when you create 2 advertisements simultaneously on a platform such as Google or Facebook.
Create 2 advertisements which are slightly different and you measure how people respond to the advertisements. From the first test, you can see which advertisement has worked best and what does not work. Then you can create another advertisement that makes some more little tweaks and run a test to see if that third advertisement has improved results.
To keep improving results you can tweak the text, image and video until you see what works best and gets the best results for your business and keeps costs low.
If you're unfamiliar with how to set up paid campaigns, don't worry we've got you covered. Download our course guide or speak to one of our course advisors to get you upskilled in Digital Advertising today.